We all know that any adventure would not be complete without the exceptional expertise and leadership from our local tour guides.
We wanted you to get to know our tour guides a little better and understand more about the benefits of their jobs to both themselves but also the role that tourism plays within their communities.
Therefore, we completed an interview with one of our guides from one of our Mongolian Trips, to gain more of an insight into their day to day role of showing tourists around their diverse and stunning country.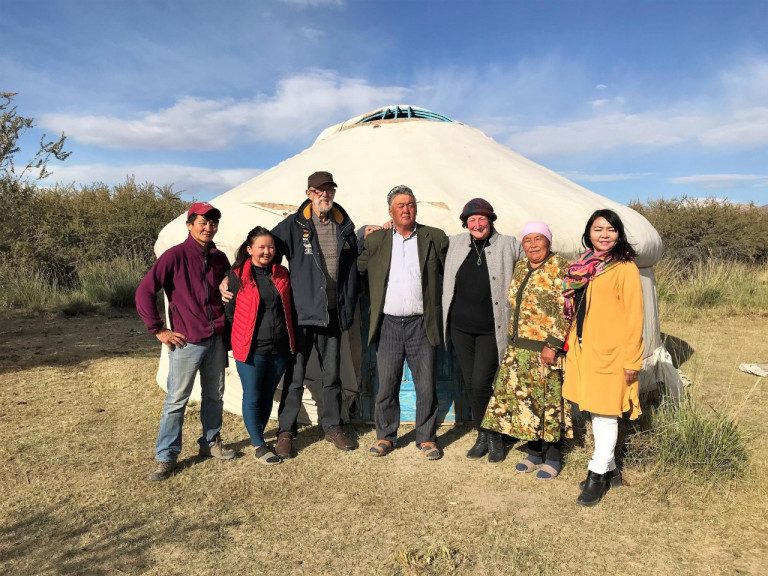 Time in the field - 12 years
How long have you been working aa tour guide and how did you end up within the tourism industry? 
I have been a tour guide for over decade, since I was student. When I was a child I used to take family trips around my country's wild nature and I spent in my summer time with my grandparents in the countryside, living in a nomadic way of life. I loved to learn foreign language in my secondary school so I decided to choose linguistics to study at university. I think that all of these life experiences made me become a tourism guide.
What is your favourite part of your job?
I am a nature and culture lover. I love traveling and meeting people. I also really like talking to people who have different a culture from us. I love to get to know about their culture, lifestyle and life philosophy, comparing with ours. Of course the most favourite part of guiding is to introduce our culture and natural specialties of my home country to the foreign people.
What is the most challenging part of you job? 
The most challenging part of my job is decision making and problem solving during the travels. Sometimes we may be facing issues such as weather, road conditions and other unplanned aspects. First of all, we have to care about our client's safety and time framing of their travels. Specially in remote places where the is limited phone and internet connections, if we have facing some challenges then as a tour guide and as a tour leader I have to make a good decision. So before the trip starts, we have to plan our activities very well and teaming up with our sales managers very well too.  
What has been one of your highlights of your career as a tour guide? 
Being a tour guide challenges me and also teaches me a lot of life things. From trip to trip, I have been learning new skills. From this learning I understand that how important this profession is. So I think that one of the highlights of being a tour guide is I am constantly developing myself which I can help my clients to get inspirations, good feelings and being happy with a visiting my country.   
What benefits do you believe tourism plays within your community? 
Tourism plays a big role to the people's livelihood, especially in the rural areas. At Ayan Travel, we have been taking trips to the most remote regions of Mongolia, such as to the Northern Taiga mountains to meet Tsaatan people, the reindeer herding nomads and to the westernmost province to meet eagle falconers. So in my opinion, Tourism helps them to show and to keep their centuries old cultures and traditions in this modern world. In other areas it is the same. So tourism can help locals to have a good income as well as giving them understandings of how precious their old traditions and lifestyle are. So tourism can help them to think and to see the benefits of keeping their traditions.  
If you could change one thing about tourism within your country for the better, what would that be? 
If I could change one thing about better tourism in our country is to increase the international flights. Very limited direct flights are operated to/from Mongolia, for example if we have direct flights from London we are very happy with that.
What part of your country do you love showing tourists and why? 
Mongolia has diverse natural ecosystems and is home to diverse cultural heritages. So I would love to show everyone these great diversities. There are 6 different natural zones we have in Mongolia, high mountainous zone in the Western region with ethnic groups cultures, Taiga and Tundra forest zone in the Northern region with reindeer herding people's culture, desert-steppe and Gobi zone in the Southern Region with two-humped camel herding Mongolians' culture and lifestyle, Daurian steppe zone in the Eastern Region with Buryat ethnic groups culture. In the central part of the country, the alpine mountains, steppe-mountains with the historical sites and Kalkha Mongolian (major ethic) people's culture and lifestyle. All the natural zones are home to the great biodiversity with iconic wildlife. So I cannot choose just one thing of those all wonderful beauties.     
Any other comments about your country, job or the tourism industry, please feel free to share! 
I wish that tourism becomes one of the largest industries which replaces the mining industry in our country. As a nature, culture and adventure lover, and as a simple Mongolian with big heart for the nature, I have been doing this job and working in this beautiful bright industry for many years and I love it. We can help to develop our country with our own ways by doing our favourite jobs with a great vision. And I found my way for this.  
Thank you for asking me these great questions which made me thoughtful and remind all about the importance of tourism for me!