With a background in anthropology and a passion for her own off-the-beaten track travel adventures, Katia Knight, YellowWood's Operations Manager, recently returned to Georgia, a country she'd visited as a university student over a decade ago, only to fall in love with Georgia - and travel - all over again. 
Enjoy reading the blog post she penned about her trip, and look out for her carefully crafted itineraries, packed with all her favourite things including delicious food and wine, beautiful vistas and stunning landscapes. Your trip to Georgia with YellowWood Adventures, will be full of meaningful encounters with warm and wonderful locals, and opportunities to deepen your understanding of places and their complex and evolving histories.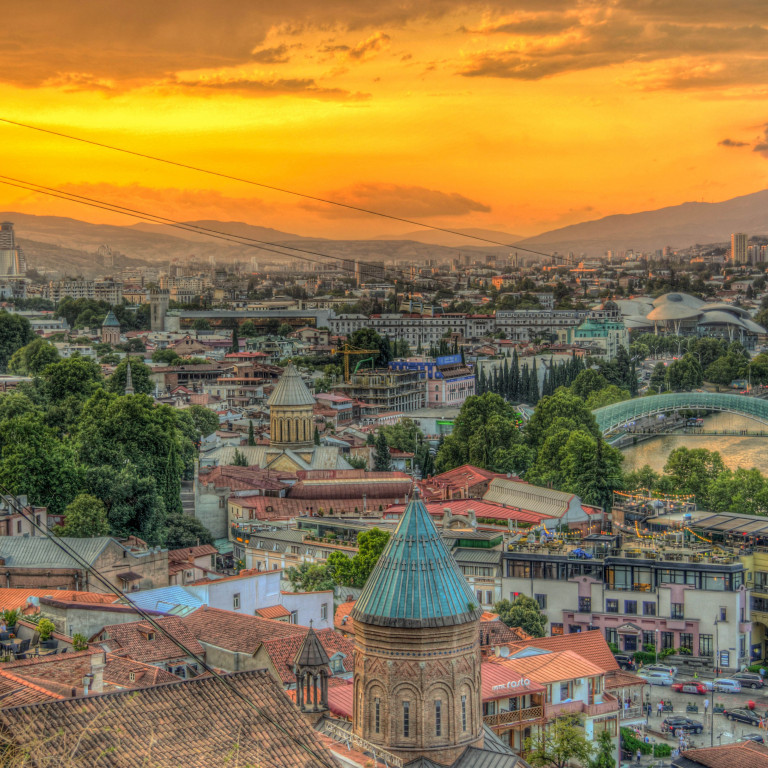 Georgia at the crossroads
"I'm going to Georgia" I'd tell my friends and family, quickly learning to complement my statement with "Eurasia". Most assume you mean the state in the Southeastern region in the United States, and to be fair, Georgia (country) is 0.45 times the size of that state and it's not on many people's map. It's not somewhere we hear all that much from either. 
Still not officially part of Europe, Georgia is located at the crossroads of Western Asia and Eastern Europe. Bounded to the west by the Black Sea, to the north by the stunning Caucus Mountains, Georgia's neighbours are Russia (north), Azerbaijan (east), and Armenia and Turkey (south).
Georgia has been occupied by the Mongols, the Persians, the Ottomans, and Russians. Stalin was born there in 1878. And, according to archaeologists, so was winemaking, over 8,000 years ago. Up until 1991, this small country was part of the USSR. In 2022, 75% of Georgian citizens support EU membership and despite 83% of the population of practicing Orthodox Christianity, Georgia proudly embraces its different communities, for example the Jewish one who have been based in Georgia since the 2nd c. B.C., Muslim (from the 8th c.), Armenian, Roman Catholic etc. 
It is a country where such varied influences are visible in the architecture, in the makeup of a city's or village's streets; it's so wholesome yet also infused with spices and oriental influences. At the same time, Georgia is also a country rooted in a strong sense of tradition and of national identity. 
Whilst there are over 5000 languages used around the globe today, there are only 14 unique scripts and Georgian is one of them. Scientists believe it was developed in the 5th century AD. Georgian multi-voiced polyphonic singing tradition was inscribed on UNESCO's intangible cultural heritage list in 2008. 
I was enthralled when I paid a visit there in October 2022. Here are some of the reasons why.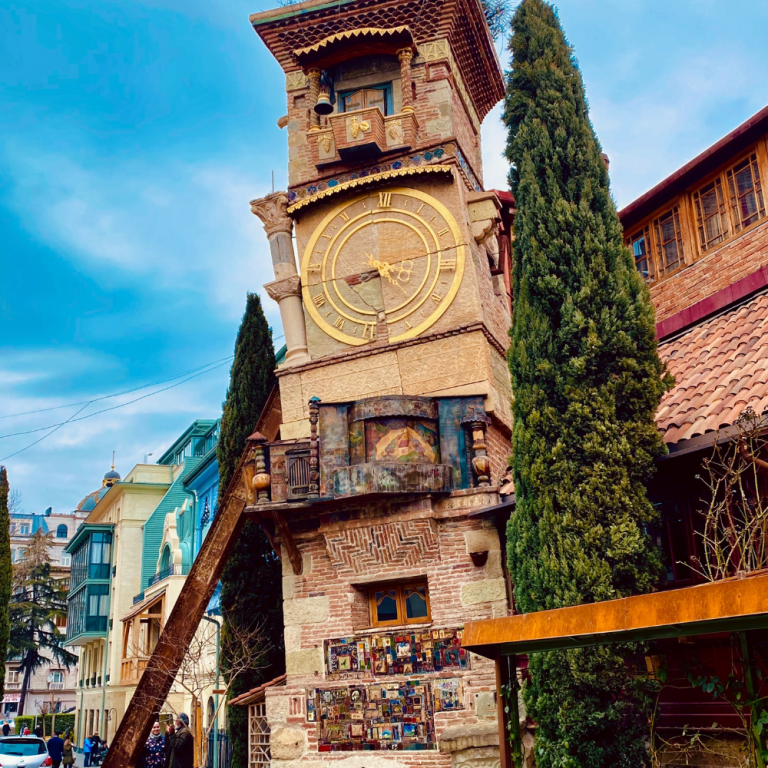 Tblisi: the city of art, culture, sulphur and celebration
Many flights land in Tbilisi in the dead of night. I landed in Tbilisi at 3am in the morning, and within moments was sliding along the empty, immaculately tarmacked highway, curious as to what I'd wake up to the next morning. 
Tbilisi is Georgia's capital city. It was founded in the 5th century AD by King Vakhtang I of Iberia. Located on the Old Silk Road, legend has it that the King stumbled across its hot springs whilst out hunting and was so impressed that he built a city surrounding them (this is one variant of the many legends describing the city's origins). It has served as the capital of various Georgian kingdoms and republics since then. 
Its cobblestoned old town is testimony to its complicated history with periods of Persian and Soviet rule. Eastern Orthodox churches, ornate art nouveau buildings and modernist structures are juxtaposed. Most of the city is nestled in the valley, but on the hillside is Narikala, a reconstructed 4th-century fortress, and Kartlis Deda, the iconic aluminum figure of the "Mother of Georgia."
There's a vibrancy to it, fuelled by a healthy (and delicious) food scene, street art and musicians everywhere. There are street markets, flower markets and food markets, and many pedestrian areas enjoyed by tourists and locals alike. It's a city of activists, of people getting on and celebrating life. In the first three days I spent in the city, I stumbled upon two "wine street festivals" in different parts of the city. The streets had been lit up as though it were Christmas, and the sounds of laughter bounced off the sides of the buildings as locals sipped wine from the morning.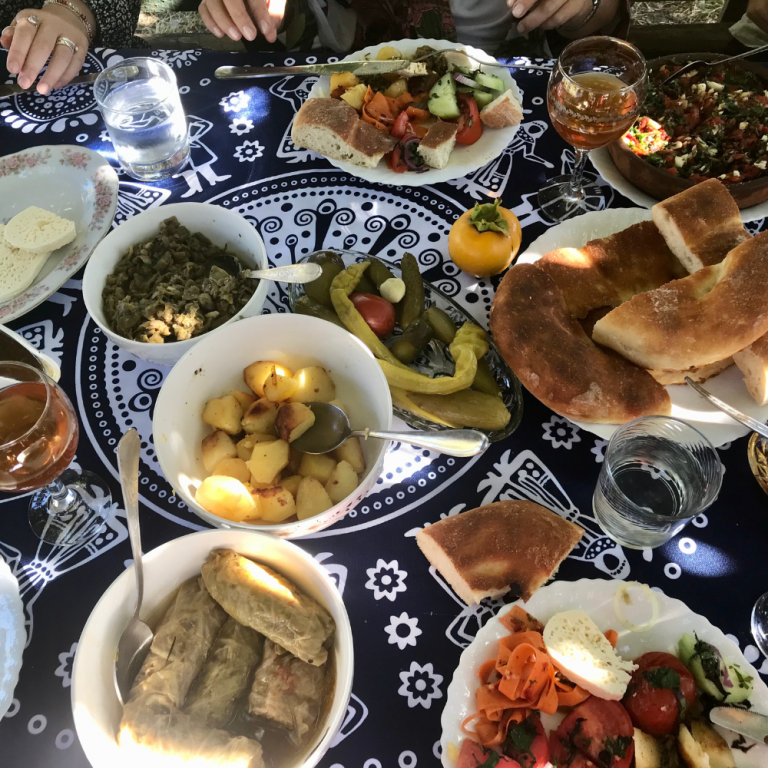 A long tradition of wine and hospitality
Georgians are very proud of their tradition of hospitality. They are quick to identify tourists and seem genuinely curious to find out where they are from. They want to know if you would care to have a drink with them or come to their homes for dinner with their friends and extended families. If you are fortunate enough to be able to accept the invitation, not only will they present you with an incredible spread of delicious foods made with the freshest and most flavoursome ingredients.
Think aubergine, walnuts, tomatoes, bean dishes, cheese and breads which are staples of the hearty Georgian diet - they will also invite you to share in their toasting traditions, facilitated by an engaging Tamada (toastmaster), whereby the meal is punctuated by small speeches or stories, in which the speaker says something personal or poignant about an important, emotional theme of their choice. 
Of course, another key part of this tradition is the wine. 
Georgia is one of the oldest wine regions in the world. The South Caucasus, with its fertile valleys and protective hillsides, has been home to grapevine cultivation and wine production for at least 8000 years. Today, wine and viticulture are entwined with Georgia's national identity: the ancient traditional Georgian winemaking method using the Kvevri clay jars still dominates making unique tasting wines. In 2013 it was added to the UNESCO Intangible Cultural Heritage Lists.
I was so delighted to meet so many families who were not only open to but delighted at the prospect of us bringing our guests to their homes. At YellowWood Adventures, we really work to ensure that the wealth we bring to a destination through tourism gets directly to the individuals and communities we visit. There are fewer more direct, tangible and joyful ways than by offering to pay them for a service they are so excited and good at giving.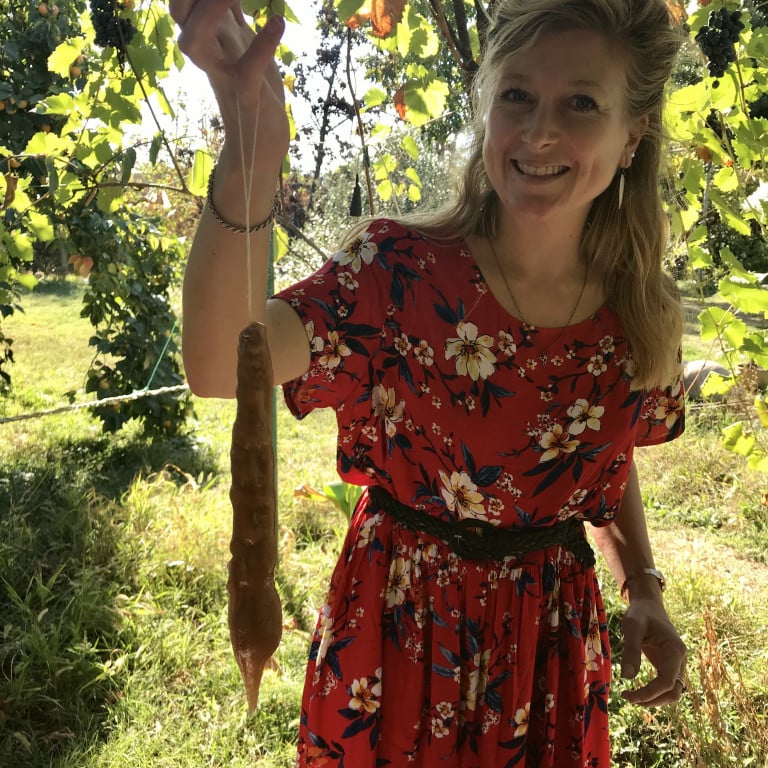 Georgia's place in the world: Ukraine and Russia
I travelled there in the early October of 2022. War in Ukraine was raging, and my friends and family were concerned about my wellbeing.
It's true that Georgia's relationship with Russia is fraught and has been for a while. Georgia borders Russia to the north. I met many, mainly male Russians, who had fled there to avoid military conscription. Though Georgians aren't overtly hostile to individual Russians, they are not happy about this. There is much support both practical and philanthropic for the Ukrainian cause and Ukrainian refugees.
But we are very far from Ukraine here. Kiev is almost 2000km away, separated by a number of countries and the Black Sea. 
It's hard to see a country so desperate to host travellers, so impacted by geopolitical events they are so far from.   
Image: Katia with Georgian walnuts dunked and dragged through grape skins and flour - yum!
To conclude:
So how to convey the richness this land affords the discerning traveler? You will, I'm afraid have to come and experience it for yourself. I guarantee that you will be well received and you certainly won't go hungry. Georgians consider guests to be gifts sent from God and will welcome you with open arms.