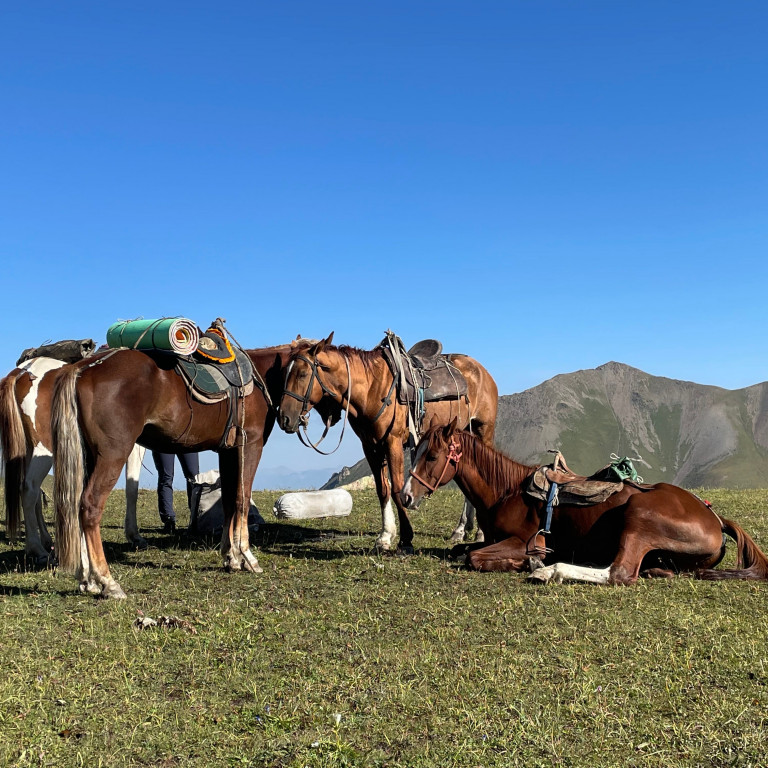 A trek through the Tian Shan Mountains in Kyrgyzstan
We spotted our support team from the minibus and as soon as it stopped we jumped out, eager to meet them. They were gorgeous, with long silky hair of various colours, strong muscly limbs, elegant noses, cute pointy ears and lovely brown eyes framed by long dark lashes. They were naked except for their sturdy metal shoes. And their bridles and saddles, obviously.
We had arrived at the Jurgalan Valley road head at 2200m in the foothills of the Tian Shan mountains, two hours from Karakol in central Kyrgyzstan. No, I didn't initially know where that is, either. Nine of us had booked onto a trip with YellowWood Adventures centred around a relatively new six day trekking route with a couple of days each end in the capital, Bishkek. Imagine a walk through the Alps for a week in summer 100 years ago. No roads, no towns, no ski infrastructure, no other visitors. We expected to see just a few Kyrgyz nomads with their animals and very few if any other walkers.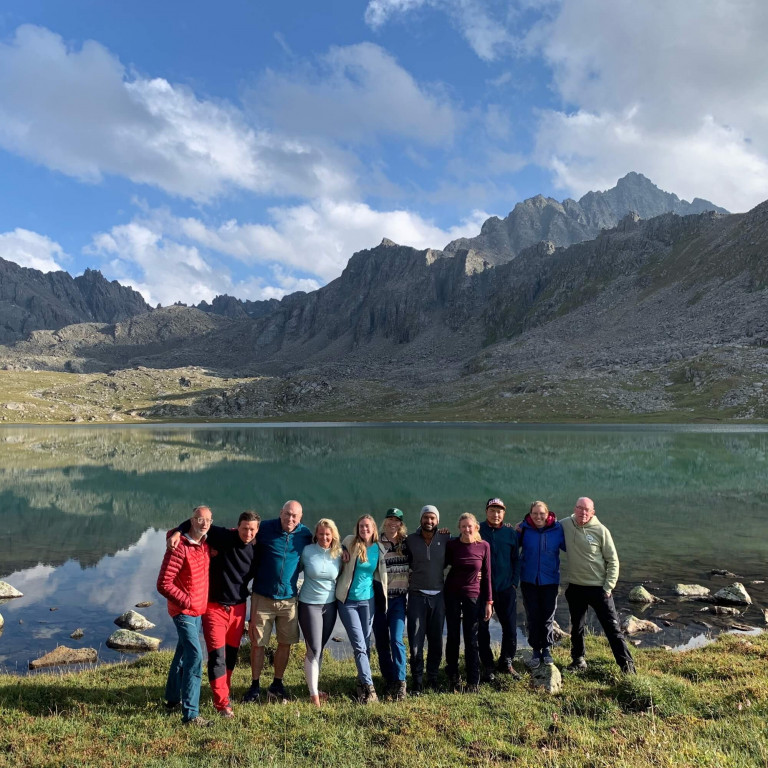 Our group of nine; Rob, Simon, Madhur, Jess, Liza, Louise, Kate, Celia and me, Jules, all shared a genuine love of the outdoors and had a roughly similar level of fitness although a few were hampered by a cold, recovering from Covid or the inevitable Delhi (Bishkek) belly. Ages ranged from around 30 to 67 and apart from a Canadian, all of us lived in Britain including one American and one Swede. Most were already very experienced travellers, although some had done relatively little hill walking or camping. Most of the group had limited horse-riding experience although this didn't matter as it was billed as entirely optional.
The day before, in the capital Bishkek, we were up for an early breakfast and kit check before boarding a small coach for the six hour journey to Karakol. We stopped at the ancient silk road minaret at Burana, in part for ice cream and then again later for a swim in the huge turquoise Lake Issyk Kul and a very good lunch of fresh trout. In Karakol we stayed at a lovely small hostel run by a Japanese couple and later dined out on very nice lentil soup then more excellent beef shashlik. The next day another two hour coach ride had brought us to the road head.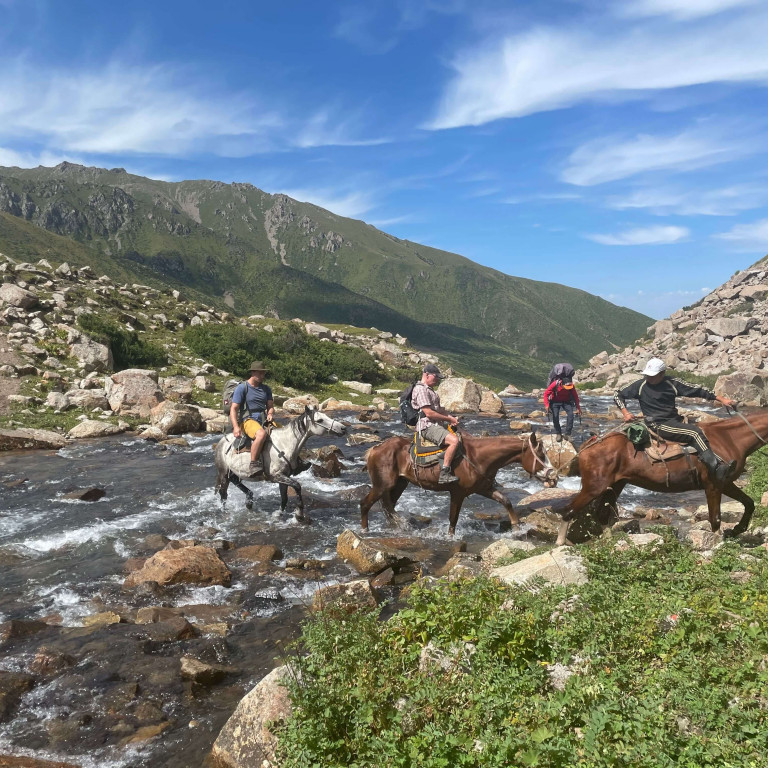 The trek was led by Maks and his glamorous wife Nurein, assisted by three horsemen.YellowWood founder Sam also joined the expedition in support. After about an hour all our food and camping equipment for six days was loaded onto some of the horses (each one only carried loads every other day) and we set off up the Jurgalan valley, aiming for our first camp at 2900m. It was a delight. Easy walking up a beautiful alpine valley in warm sun and carrying just a few personal items in a day sack. As we gradually ascended the scenery got grander and the valley sides steeper. The horses passed us by, looking totally at home, which of course they literally were.
After a few hours we caught up with them at a river crossing, which was fairly wide and quite fast flowing with a bed of football sized boulders. It looked like we would need to remove boots and socks and stagger across. But no; it soon became clear that the horses without loads would give us a lift across. I loved this but not all of the group were so keen. However, the horses were completely sure footed and carefully ferried us over with no drama (on their part) whatsoever. This process would be repeated twice more on subsequent days to cross far more challenging rivers so it was good practice for the non-riders.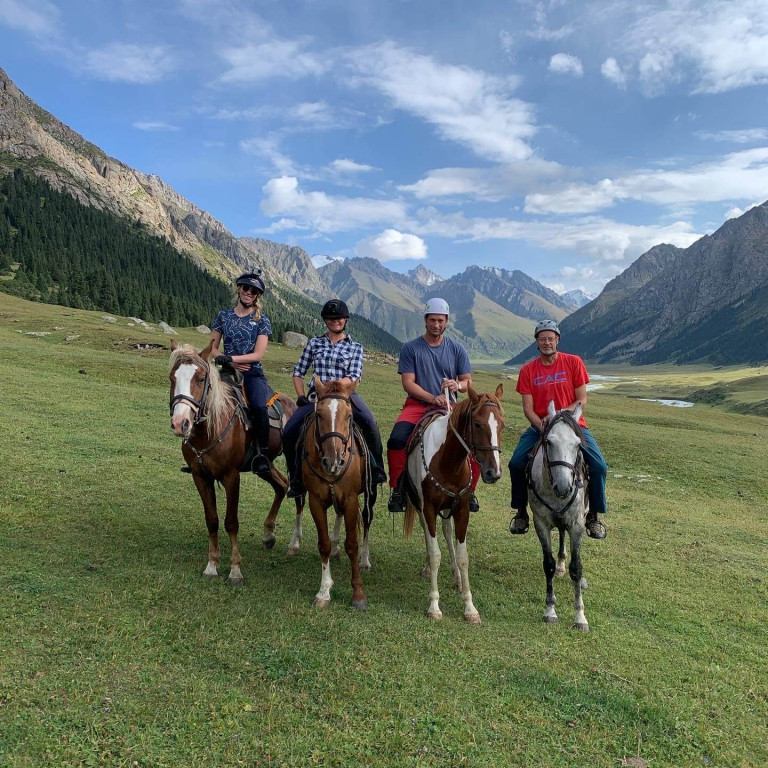 At around 5pm we arrived at our first campsite beside the river and beneath towering scree slopes and rock pinnacles. The mess tent and some of our sleeping tents were already up. After locating our bags we sorted out our sleeping kit and sat around chatting, paddling, and in the case of a few deranged souls, swimming. The glacial meltwater was not warm. Four of us were keen to do some real riding, so before dinner we spoke to Maks who got the horsemen to choose four rested horses (i.e. ones that had not carried loads that day), and we donned helmets and had a great ride with a bit of cantering up the valley and back.
I was a bit disappointed to be given a pale grey horse who looked a bit of a mess, with thistles in his mane. However he was lovely and clearly detected that I was less experienced than the others and gave me a very nice controlled ride. I christened him 'Manky' and grew to like him a lot over the days ahead.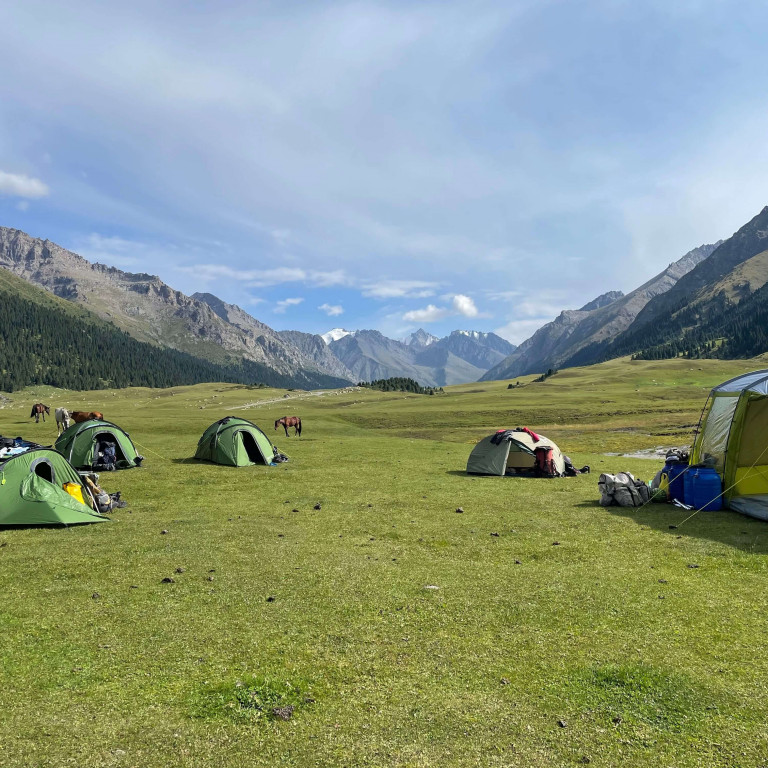 Around 7.30pm we were summoned to gather in the mess tent, to sit on floor mats or Quechua stools. Dinner was nuts and fruit, bread with cheese, salami, honey or jam, a very tasty broth with vegetables, a little meat and a lot of pasta, then biscuits and sweets, with chai (very weak tea) or coffee, all washed down with a nip or two of local vodka. At the end of Day One it seemed that we were off to a great start, with everyone enjoying it, feeling fit and  psyched for what was to come. More importantly, we were already getting on very well together and starting to gel as a unit, in which we were all happy to share any knowledge or skills to all helped and encourage others, whether in relation to the horses or inflating mats and pitching tents.
Our route took us further up the valley for a mile or so before turning right up a side valley to the Jurgalan pass at 3450m. Although the ascent  was mostly in light rain by the top it had stopped and the clouds were lifting. This was the first time we could get a feel for the size and scope of the Tian Shan which was simply stunning. Despite the low cloud the tantalising glimpses of range after range of ever higher and more snow covered mountains was spectacular and we were excited when Maks mentioned that as we travelled westwards the views would get much better still.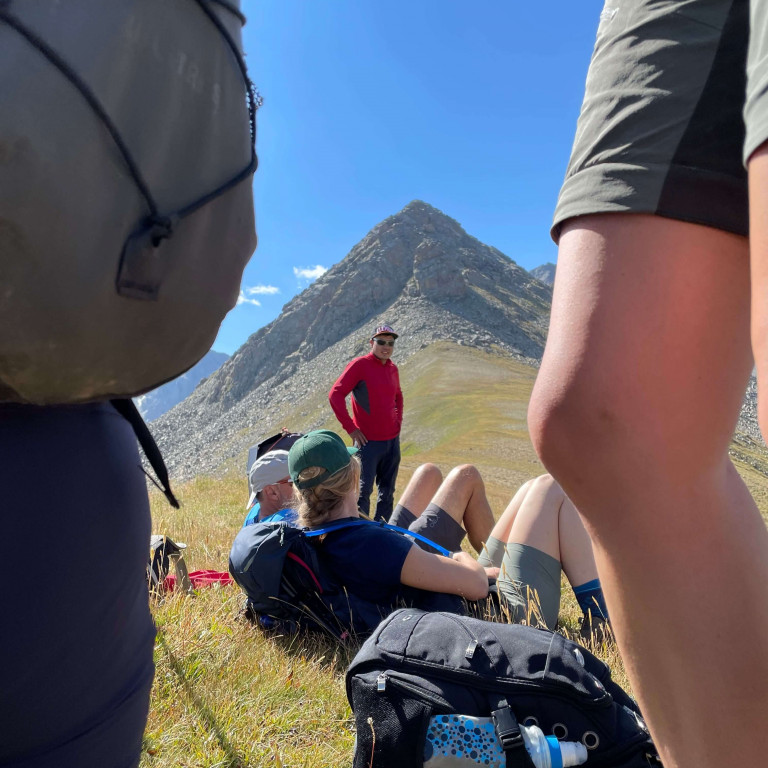 After a quick picnic lunch we descended the other side into the wider Tyrgon Valley, reaching our camp by 2.30pm at 2990m beside the powerful glacial Tyrgon River. Entertainment was provided by some local herdsmen on horseback assisted by dogs moving large herds of first horses including foals and then cattle with calves across the river. There was some excitement when a couple of errant calves broke ranks and ran amok through our campsite, chased by shouting herdsmen on horseback and dogs. The crossing was easy enough for the adult animals but the foals and calves struggled as the water was up to their necks. To our relief after considerable encouragement they made it across. Later some of us enjoyed a proper horse ride up and down the valley. My third steed in two days was a cleaner and more lively version of Manky so he became 'Manky 2'. For short sections of the gallup I was starting to get some rhythm back but it was surprisingly tiring and I did need my nap afterwards.
Day Three started with an epic horseback river crossing. Despite the level being a foot lower than the previous afternoon (due to reduced glacial meltwater during the night) it was still very fast flowing, twenty metres wide, a metre deep, boulder filled and, being meltwater, was a completely opaque grey-green colour. The horses carefully felt their way across this with nonchalant ease.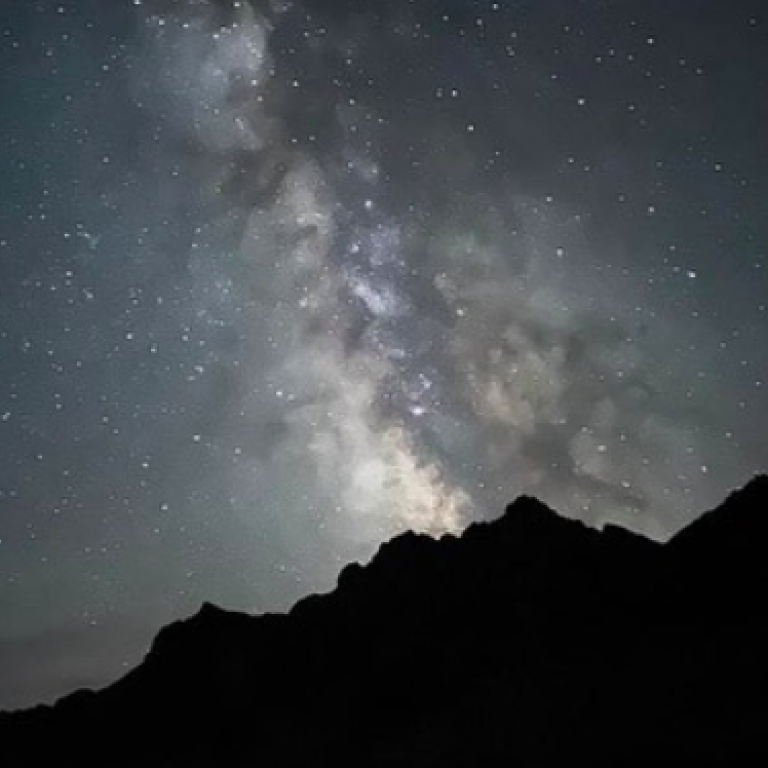 We then walked up a side valley to the Tyrgon Pass at 3400m, now starting to get used to the effects of altitude when going uphill. After a picnic lunch with fabulous views in the improving weather, this time with a surprise addition of some yoghurts, we descended into a smaller very remote valley, round a shoulder of hillside and then up again to camp beside a deep turquoise lake at 3460m. We now had epic alpine rock and snow scenery in all directions, made even more dramatic by rolls of thunder and a short but violent hailstorm. By dinner time things had calmed down into a very clear cold evening. Some enjoyed after dinner home-made cocktails consisting of tea, vodka, Berocca tablets and honey, dubiously christened a 'Tian Shan Ice Tea'. Later on we sat outside for a bit in our sleeping bags, gazing up at the sky. With zero light pollution we could fully appreciate the milky way, the moon and millions of stars.
The weather had now cleared and we woke on day four to a perfect morning. After breaking camp and loading the horses in gorgeous sunshine our route took us down into a small side valley and then around and up another, with ever more amazing views of rock towers and soaring snow and ice peaks up to 5000m, all rising above pristine alpine meadows.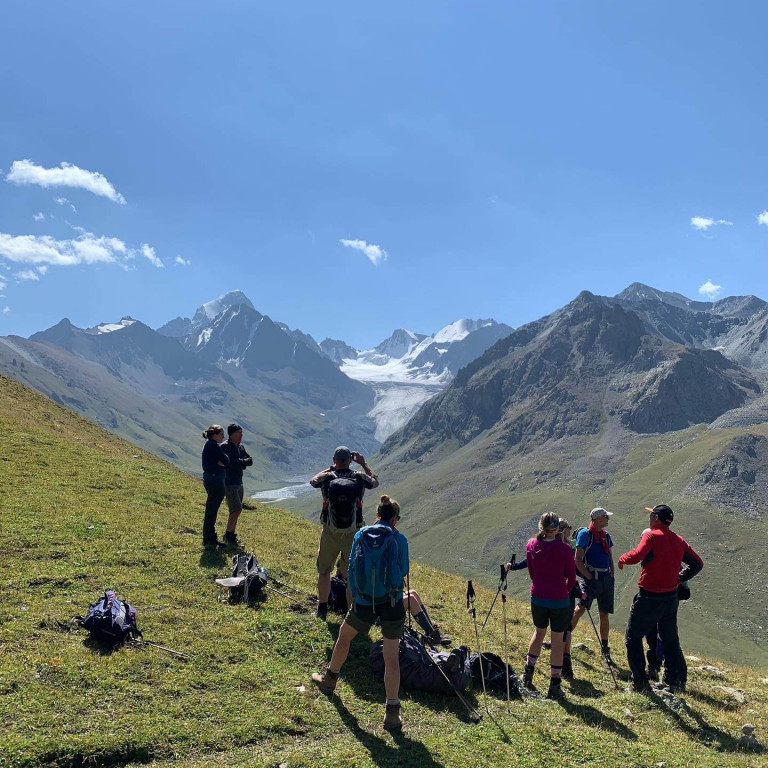 The next day was easy and delightful in the continuing warm sunny weather. As we had camped high, the ascent to the Ailanysh Pass at 3660m  took under an hour and from there the views of meadows and lush valleys rising to glaciers and snowy peaks were even more jaw-dropping. We saw large herds of horses and cattle with more foals and calves, watched over and moved around by nomads on horses with dogs. We enjoyed the lovely walk down a long side valley to camp at 2660m beside the very full glacial Aksu river.
Day Six, our last trekking day, started with a final horseback river crossing with which we were now all familiar, even those who were not natural riders. In the still warm weather the two hour ascent to the Ortok pass at 3650m felt tough, and we lounged in the sun for a long time at the top to get our breath and enjoy for the last time the now standard phenomenal views. When the gradient eased a little way down we stopped for our final picnic at a glorious spot on a broad sunlit meadow of soft grass and wild flowers under huge dark cliffs. It was a superb walk down the final long valley with more stupendous peak and glacier views, and as we approached 'civilisation' we saw a quite number of other walkers approaching the Altyn Arashan eco yurt resort where our trek would end.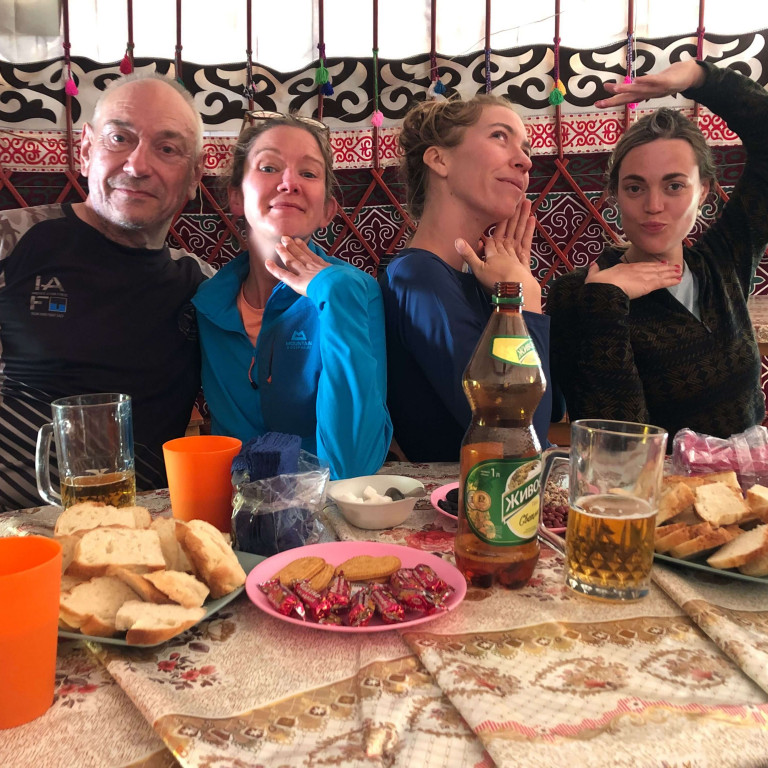 This was a veritable metropolis. There was excellent cold local beer, hot springs and then dinner with a lovely fresh Russian salad at an actual table and chairs and with some rather dubious but welcome local wine. After dinner Maks had announced there would be some music and we assumed he meant a display of skilled traditional Kyrgyz songs and dancing. We were therefore quite  surprised to hear loud Russian techno tunes blasting out of the darkness.
On exiting the yurt into another clear and cold evening we found our horsemen and a few random other people already dancing enthusiastically around a ghetto blaster perched on an upturned log in front of two ex-soviet army people carriers. This was a full-on impromptu rave. Gradually most of our group joined in, with some impressive moves from Jess and Lou while trying not to spill their latest cocktail invention (just vodka and skittles this time; not sure it will catch on). It was great to see Maks and Nureim joining in too. Having spent six days alone together while travelling through the remote and beautiful mountains, we had come to appreciate the different personalities and relish each other's company. Saying our goodbyes was to be bittersweet.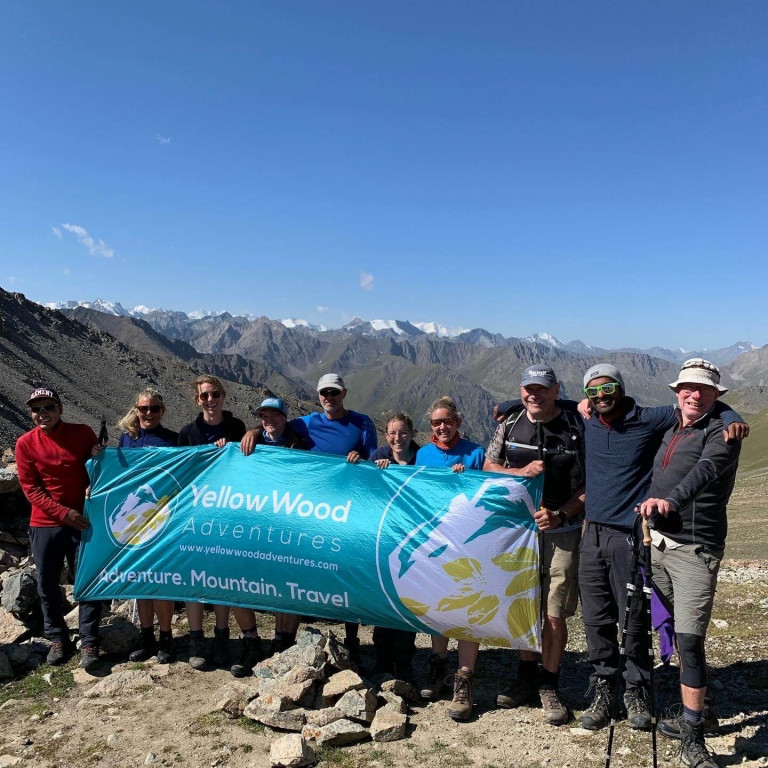 To quote the website; "This adventure is the epitome of the road less travelled: Taking you into the very heart of nature, completely away from tourists, and with only a few local shepherds in yurts and their herds of free-roaming horses for company. We will hike across beautiful untouched valleys and high passes of the Tian Shan Mountains. There is also the great opportunity to ride horses through some of the beautiful valley pastures, to sleep in a yurt and bathe in the natural hot springs with a cold beer or two on our final night in the mountains."
It was all true.
https://yellowwoodadventures.com/adventures/kyrgyzstan/tian-shan-wild